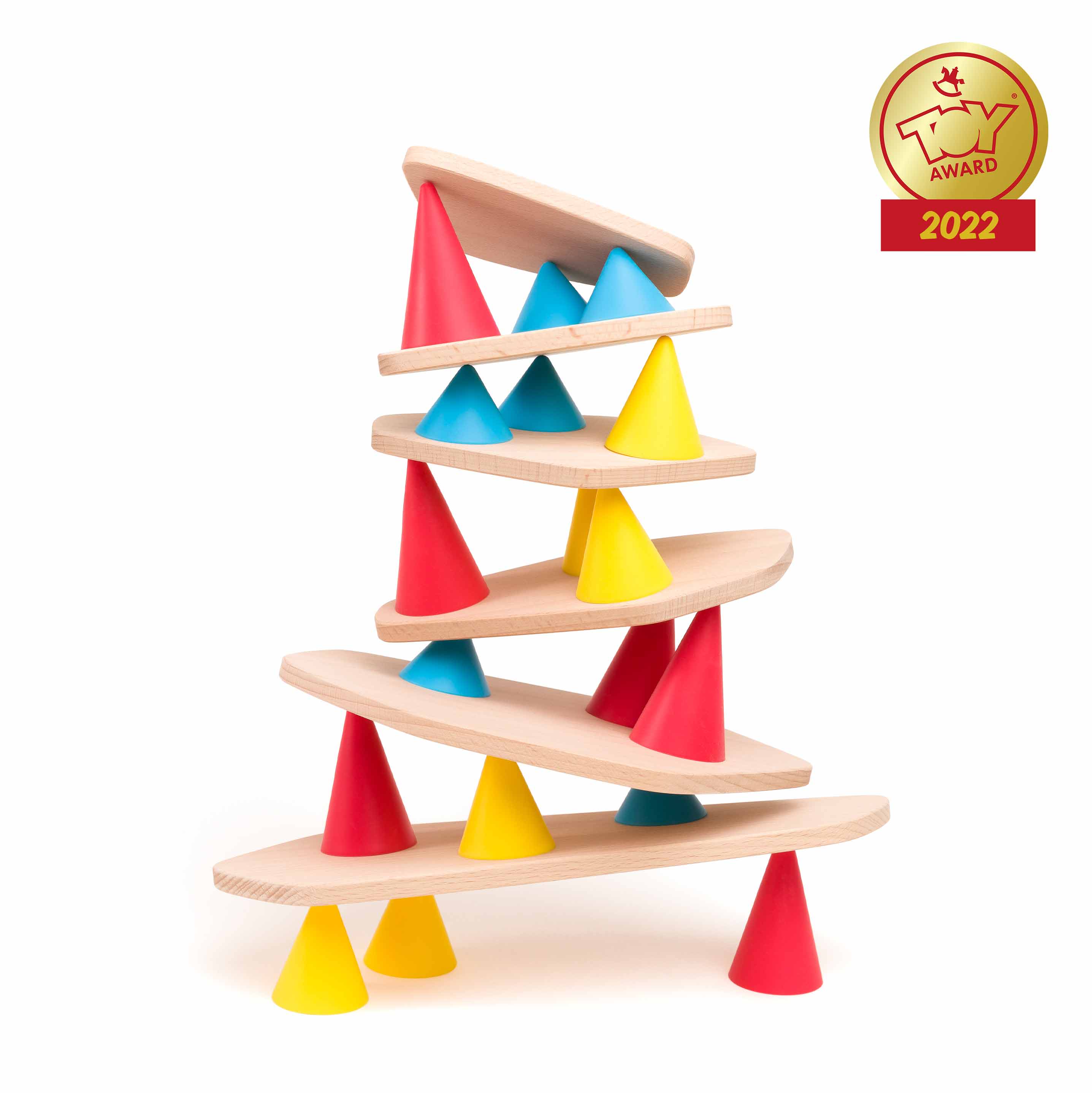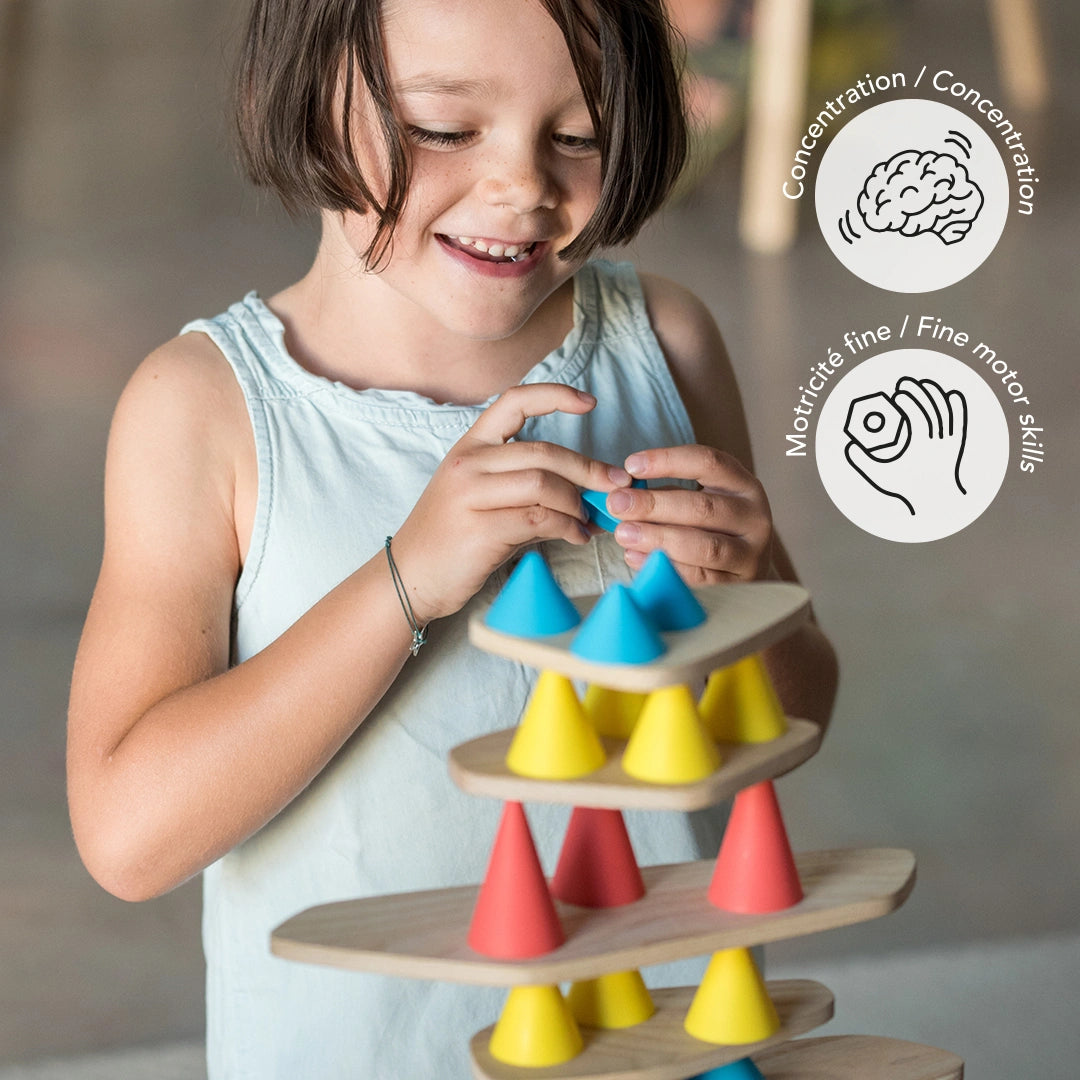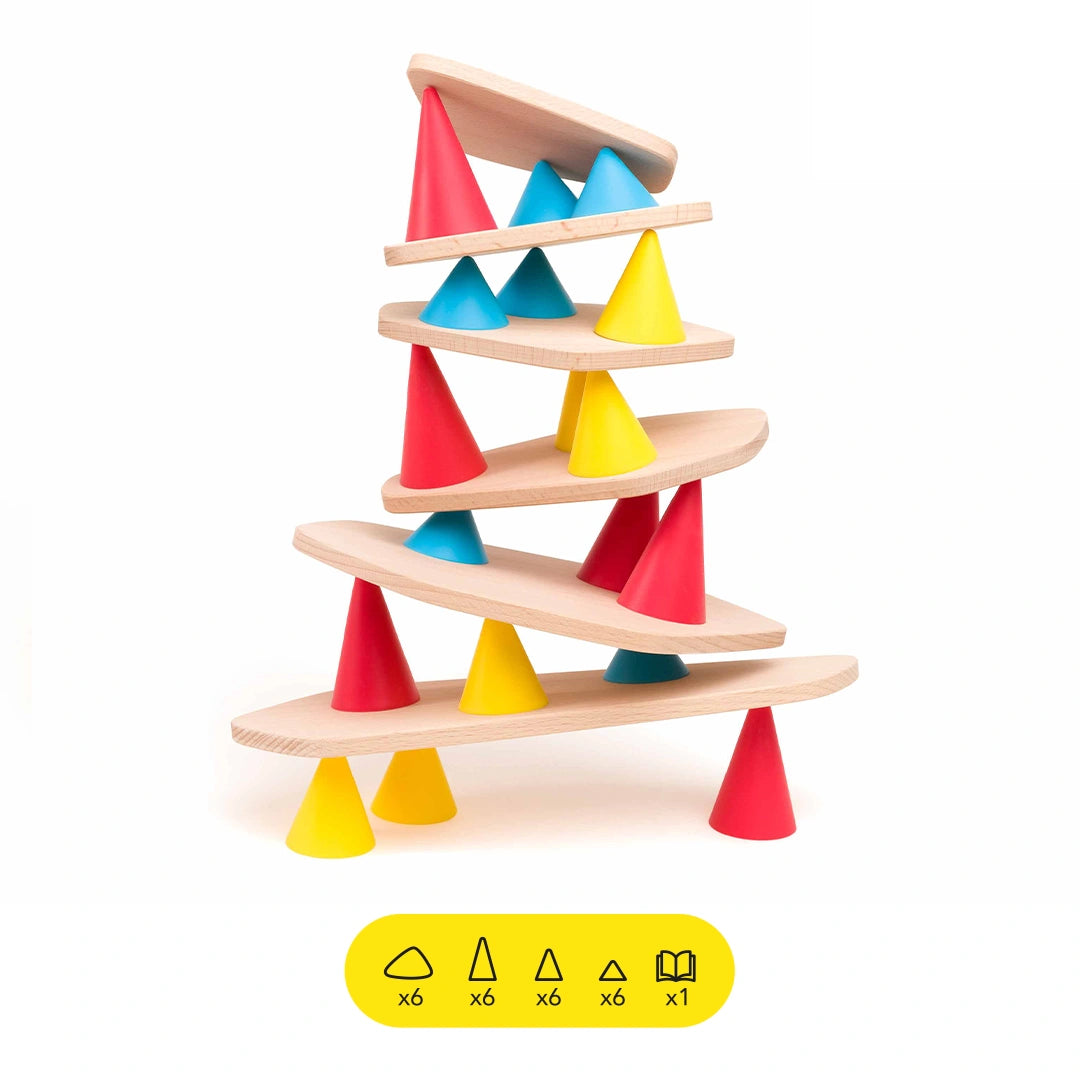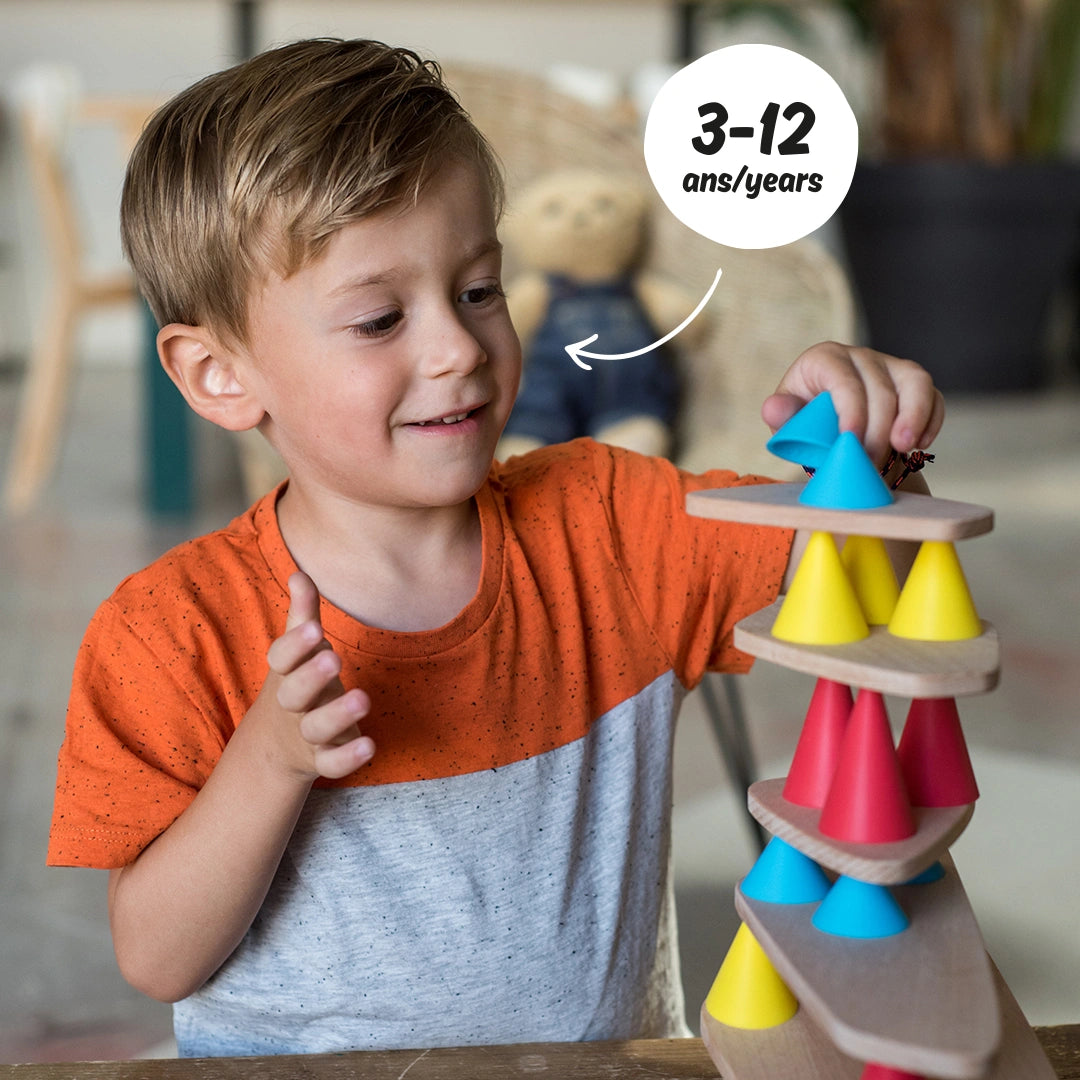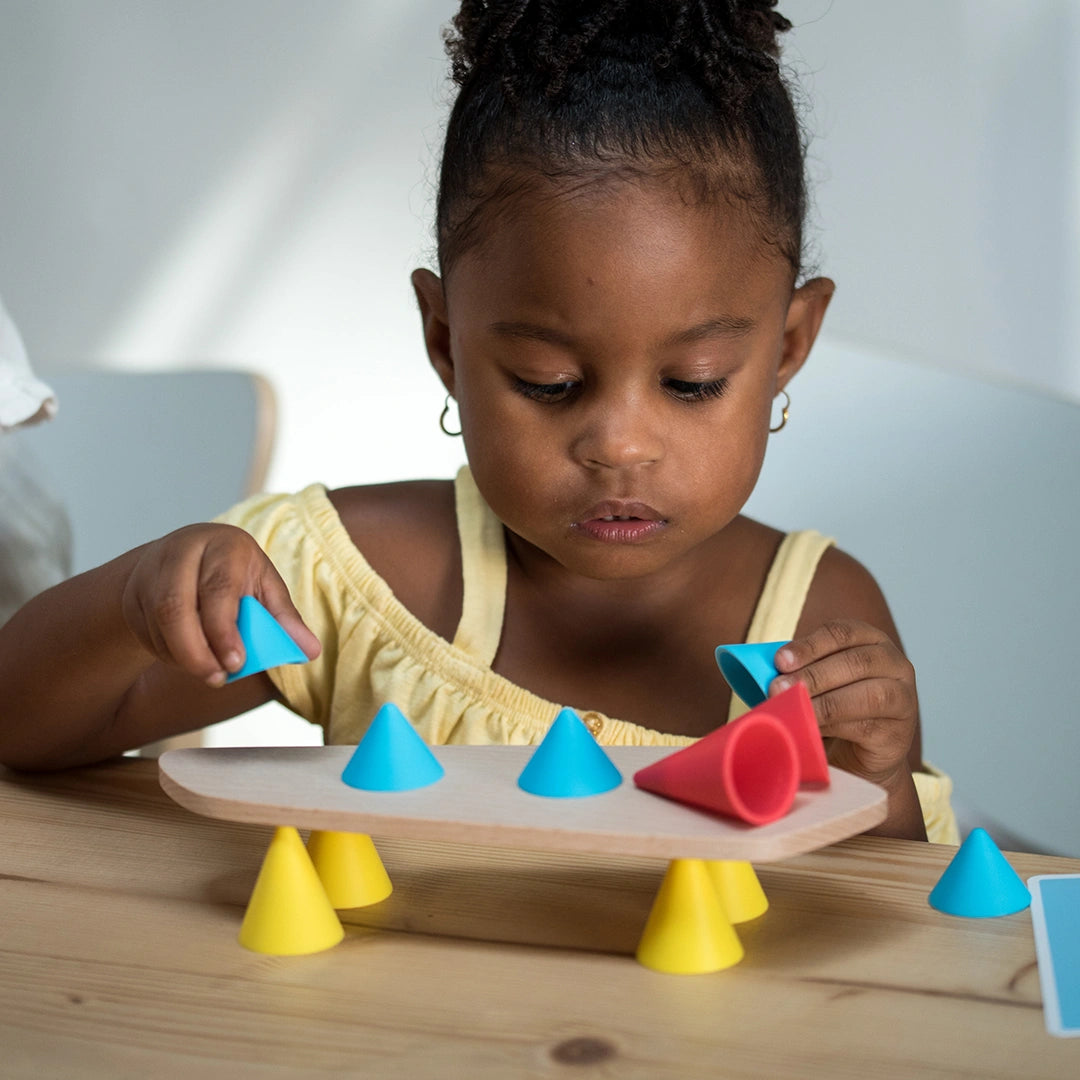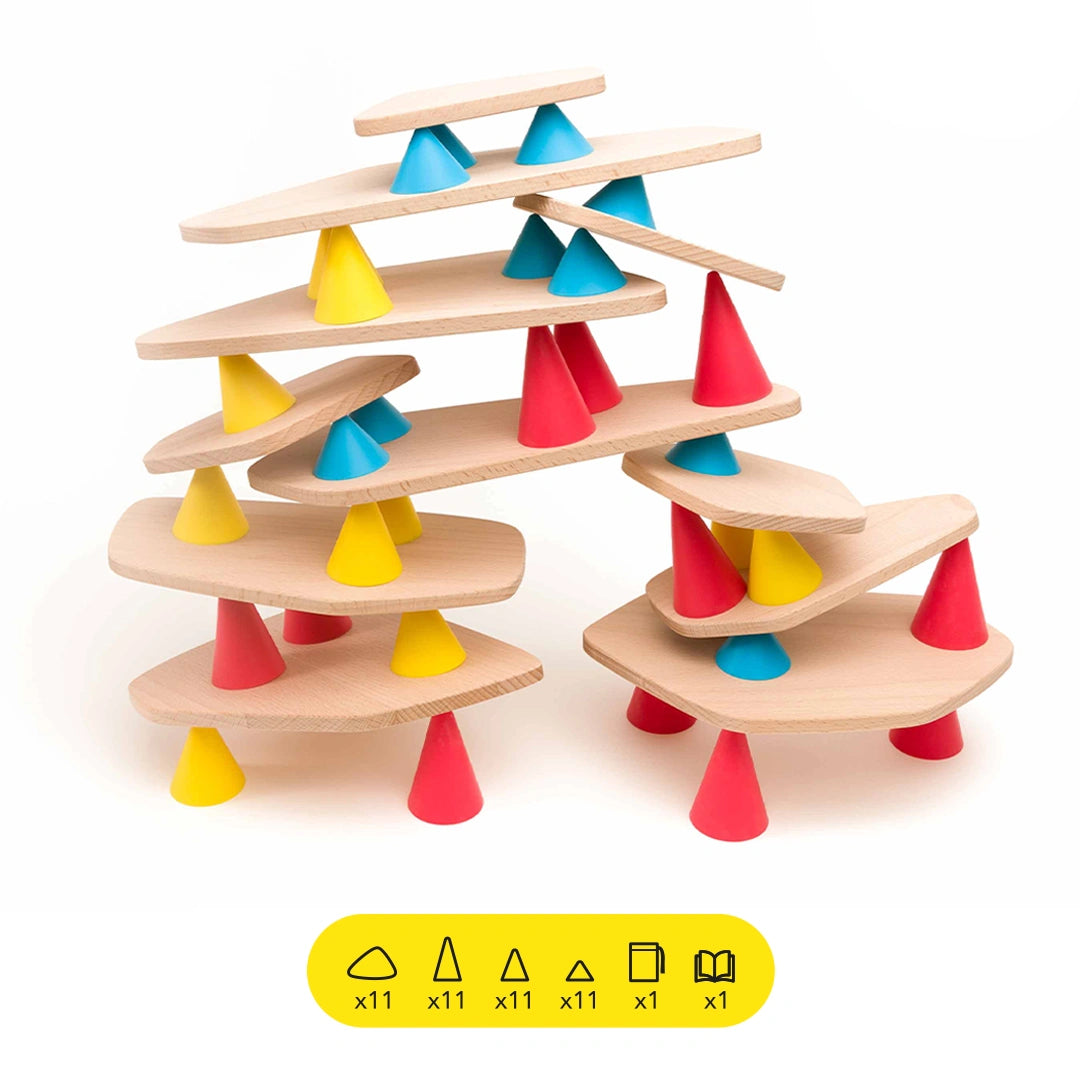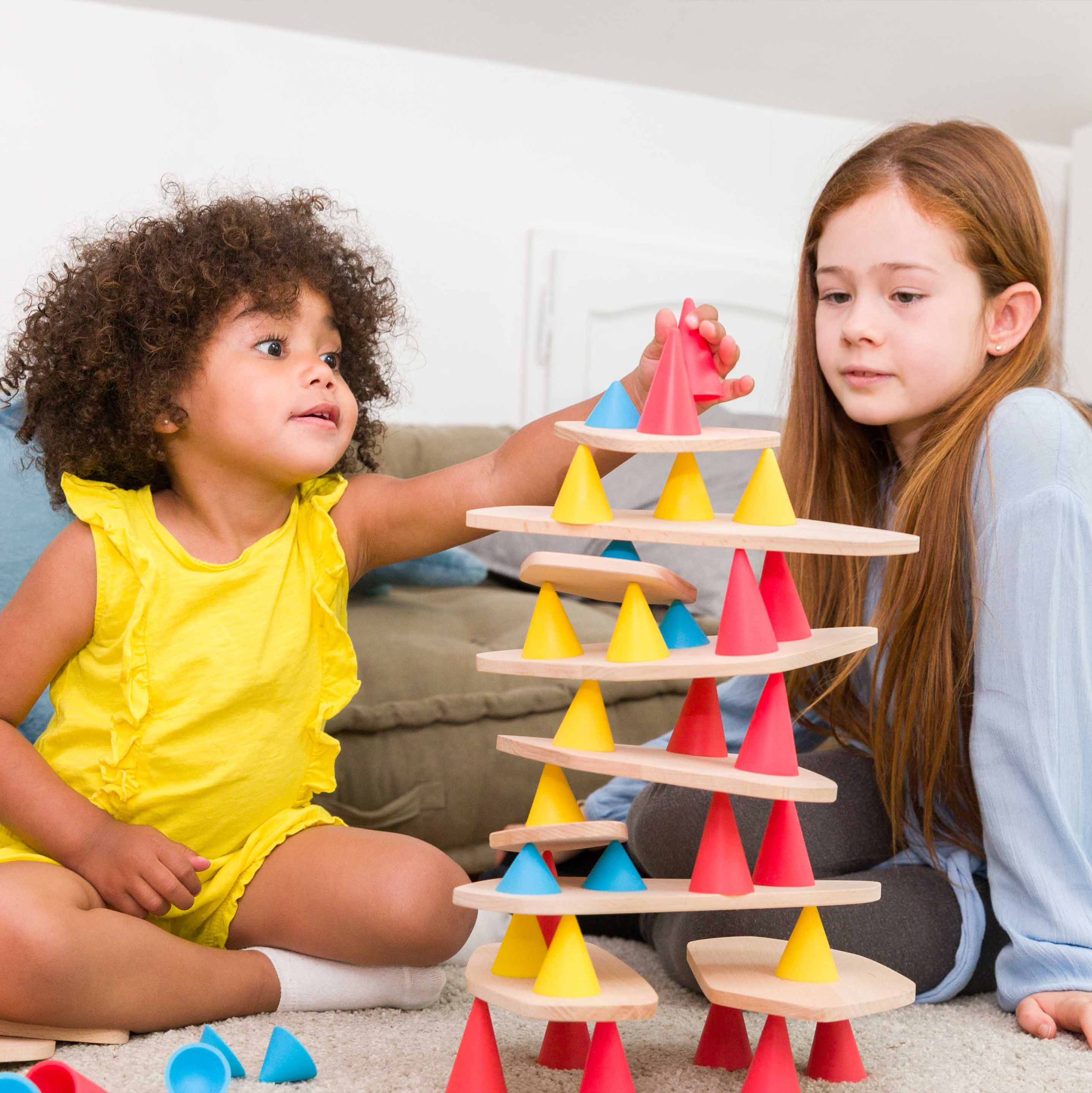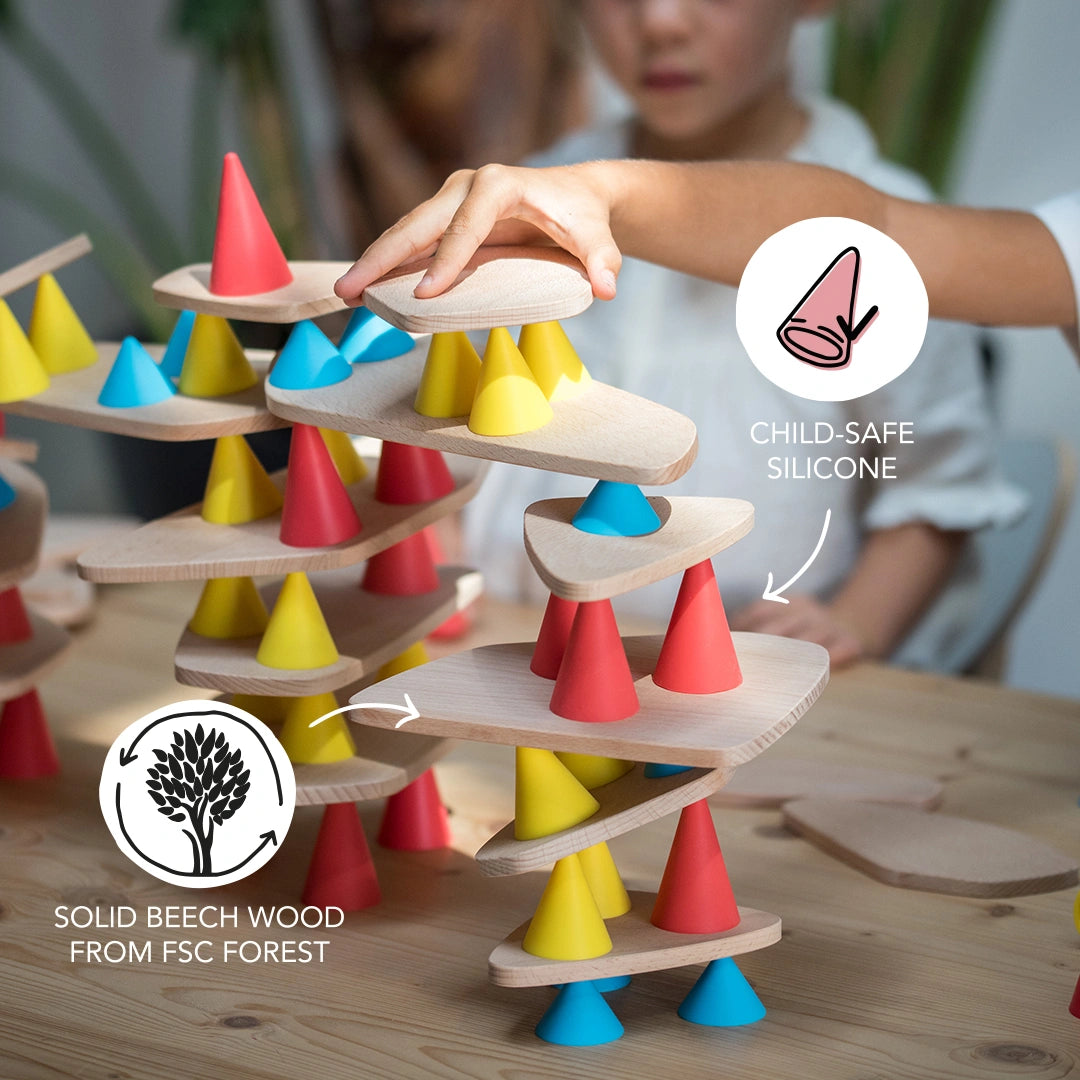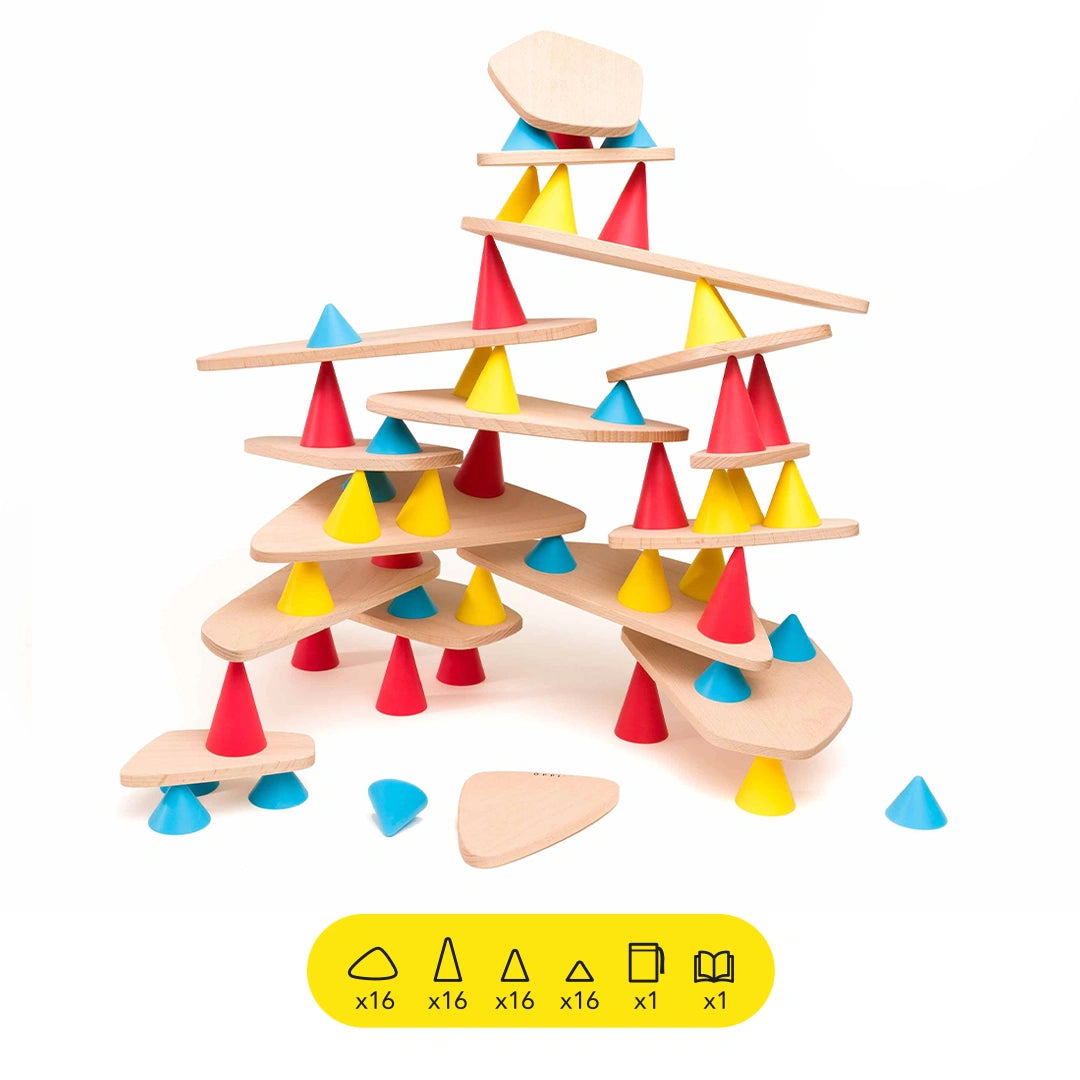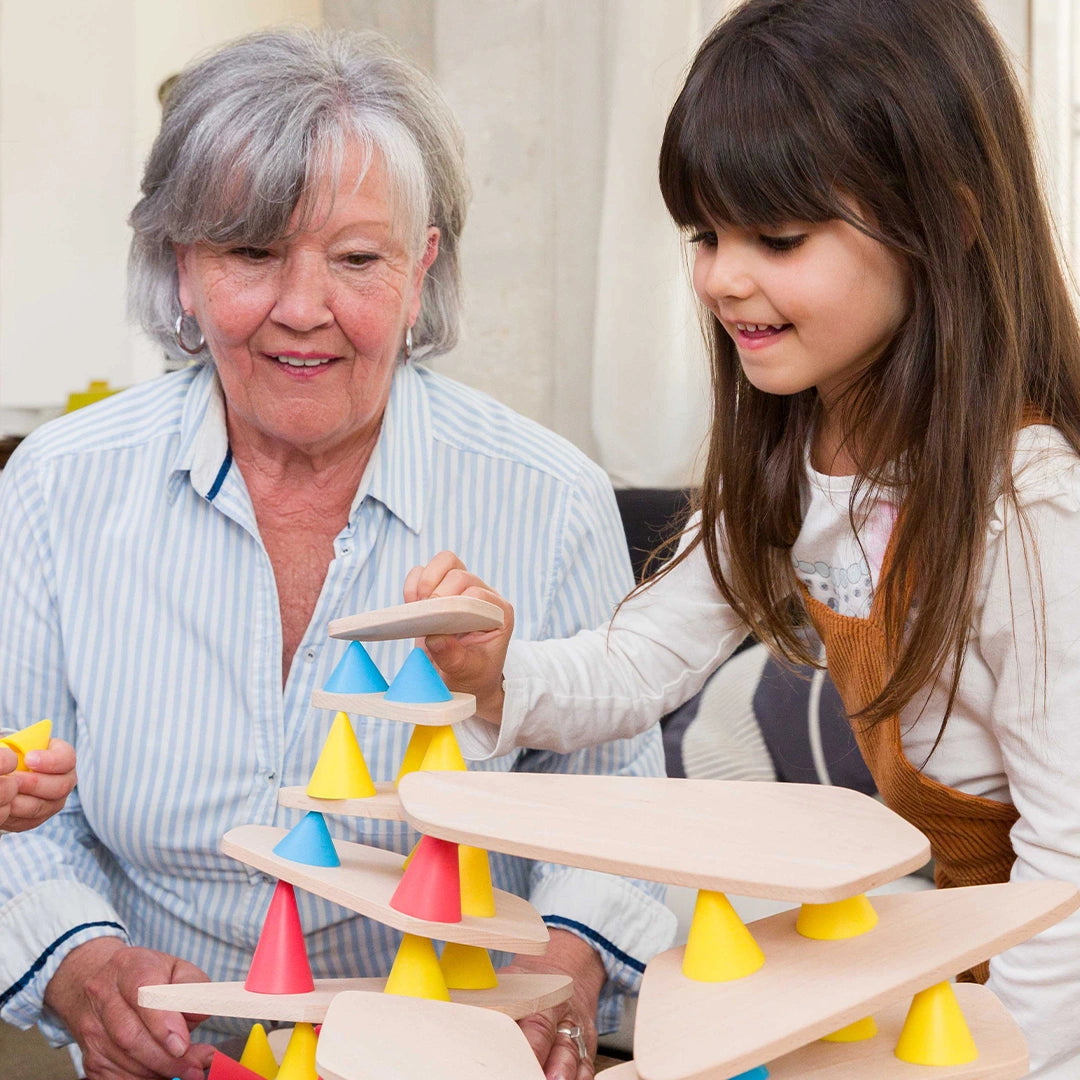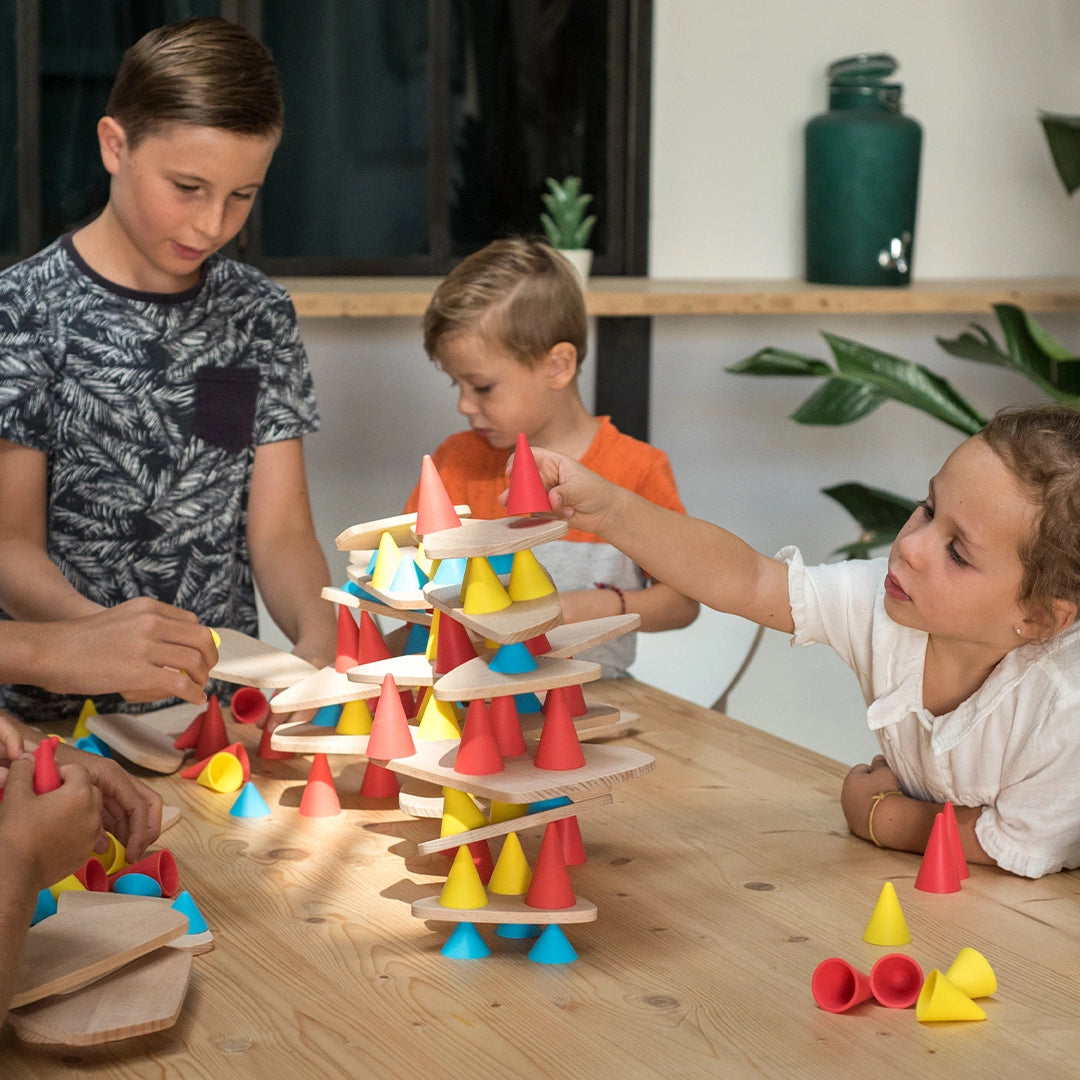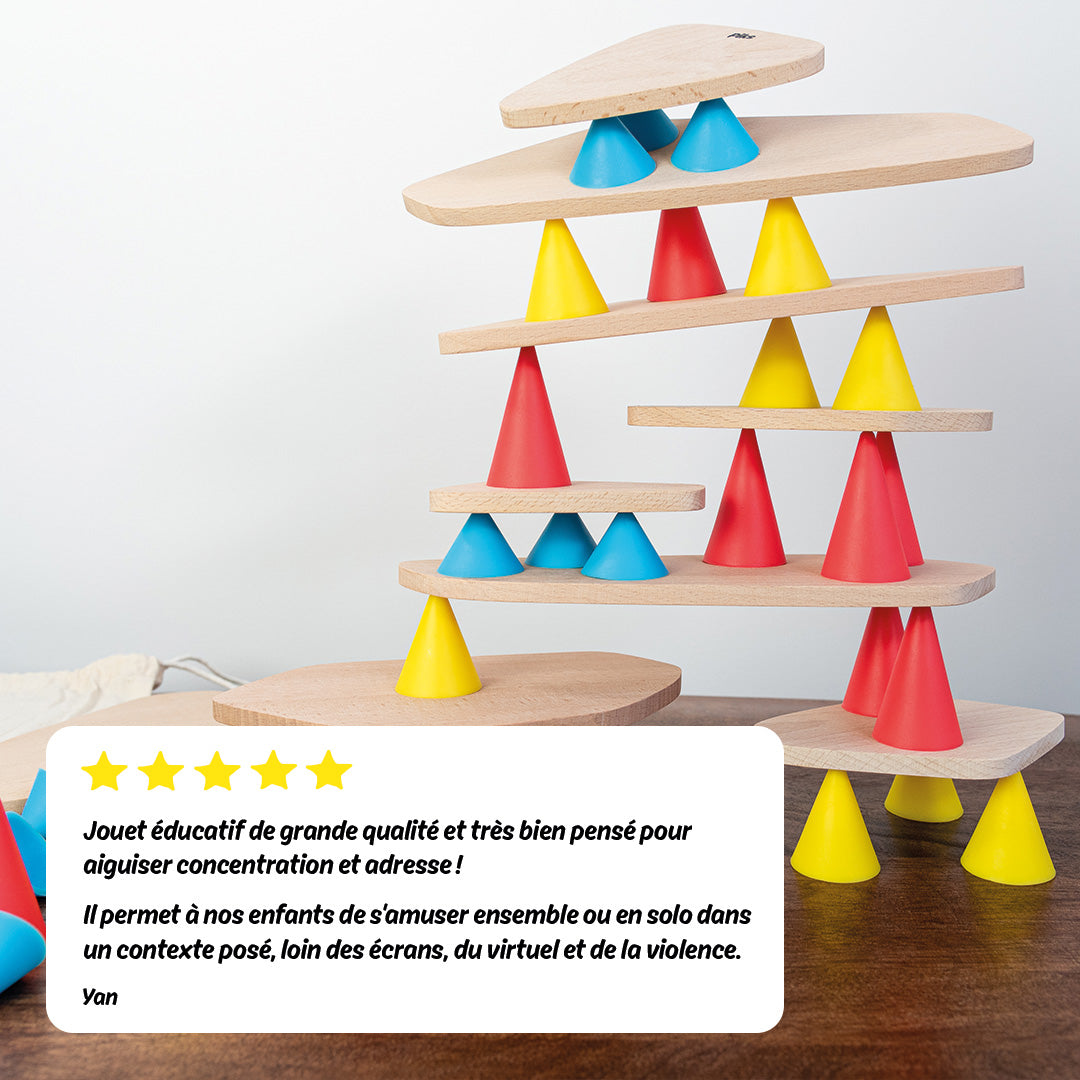 Piks - Building game
Développe la concentration
Silicone alimentaire
Stimule la motricité fine
Bois éco-responsable FSC
Commandez maintenant et soyez livré le
Vendredi 29 Septembre (France Métropolitaine)
Paiement 100% sécurisé
&nbsp &nbsp &nbsp
Satisfait ou remboursé
"In addition to discovering the pleasure of play, children will also be able to exercise their motor skills while working on their autonomy"
Piks has been specially designed with education specialists to provide essential benefits for the healthy development of children.

The different silicone cones and the variety of shapes of the wooden boards allow you to make remarkable constructions, original characters using creative cards.

piks is environmentally friendly, the wood comes from eco-managed forests (FSC) and the cones are made of silicone nontoxic. It's a game designed for ALL children: it's inclusive and gender neutral.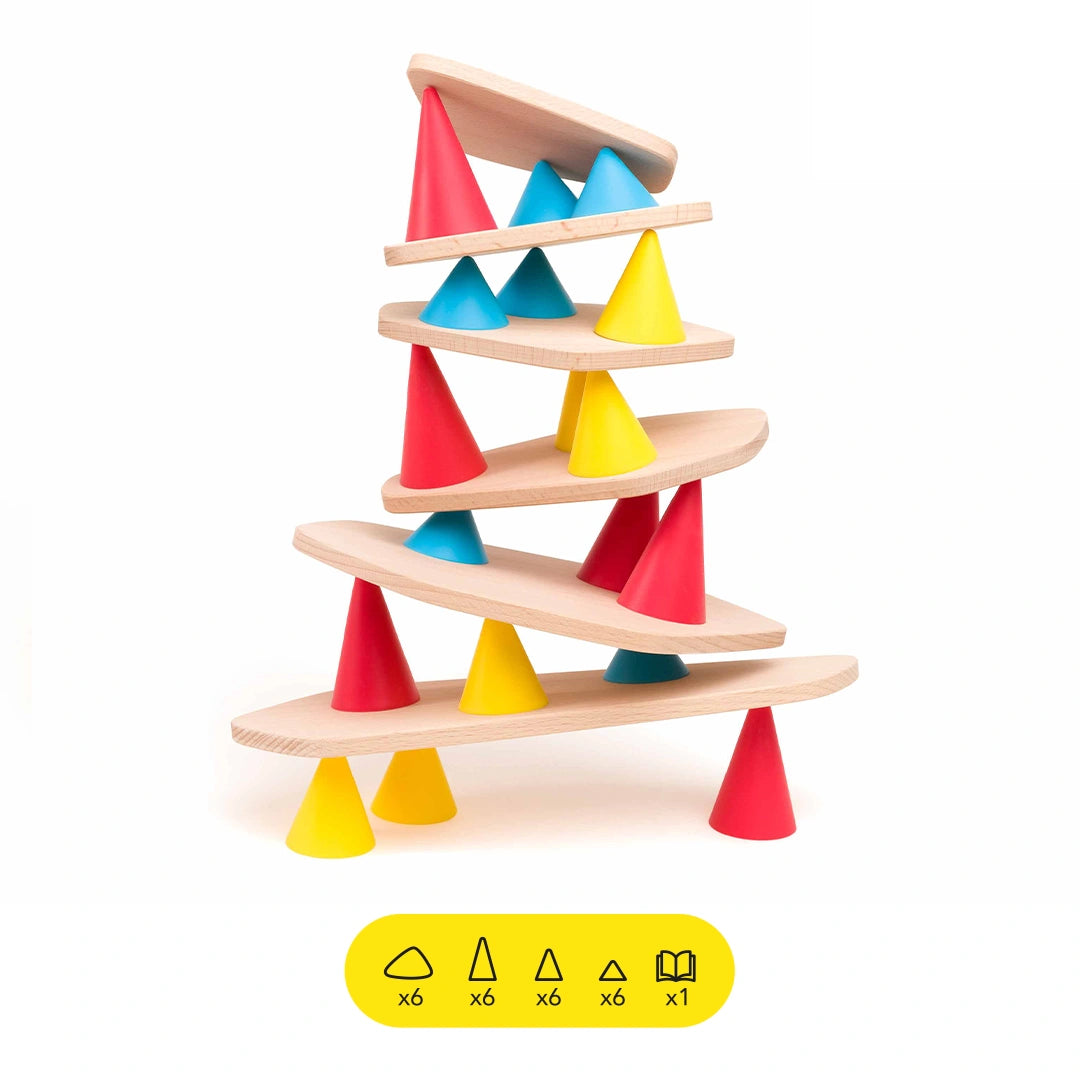 Learn while having fun
The rule of the game is simple: make the highest or most original construction possible without dropping any parts!
And for that, you have to know how to use logic, reflection, attention and concentration to accomplish your mission!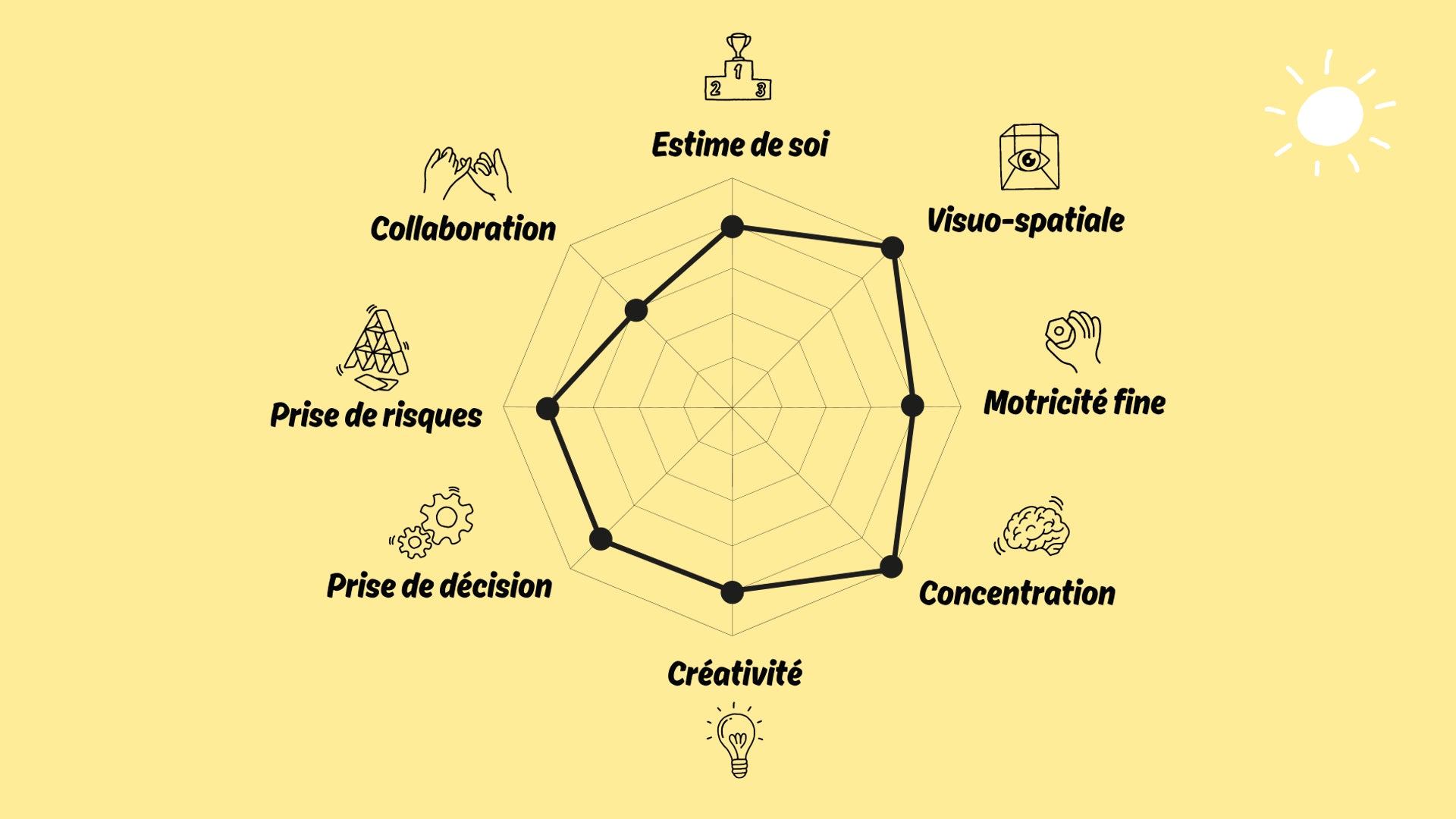 Multiple benefits for the child
Piks has been specially designed with education specialists to provide essential benefits for the proper development of children: child psychiatrists, occupational therapists, etc.
It is scalable and therefore adapts to all ages!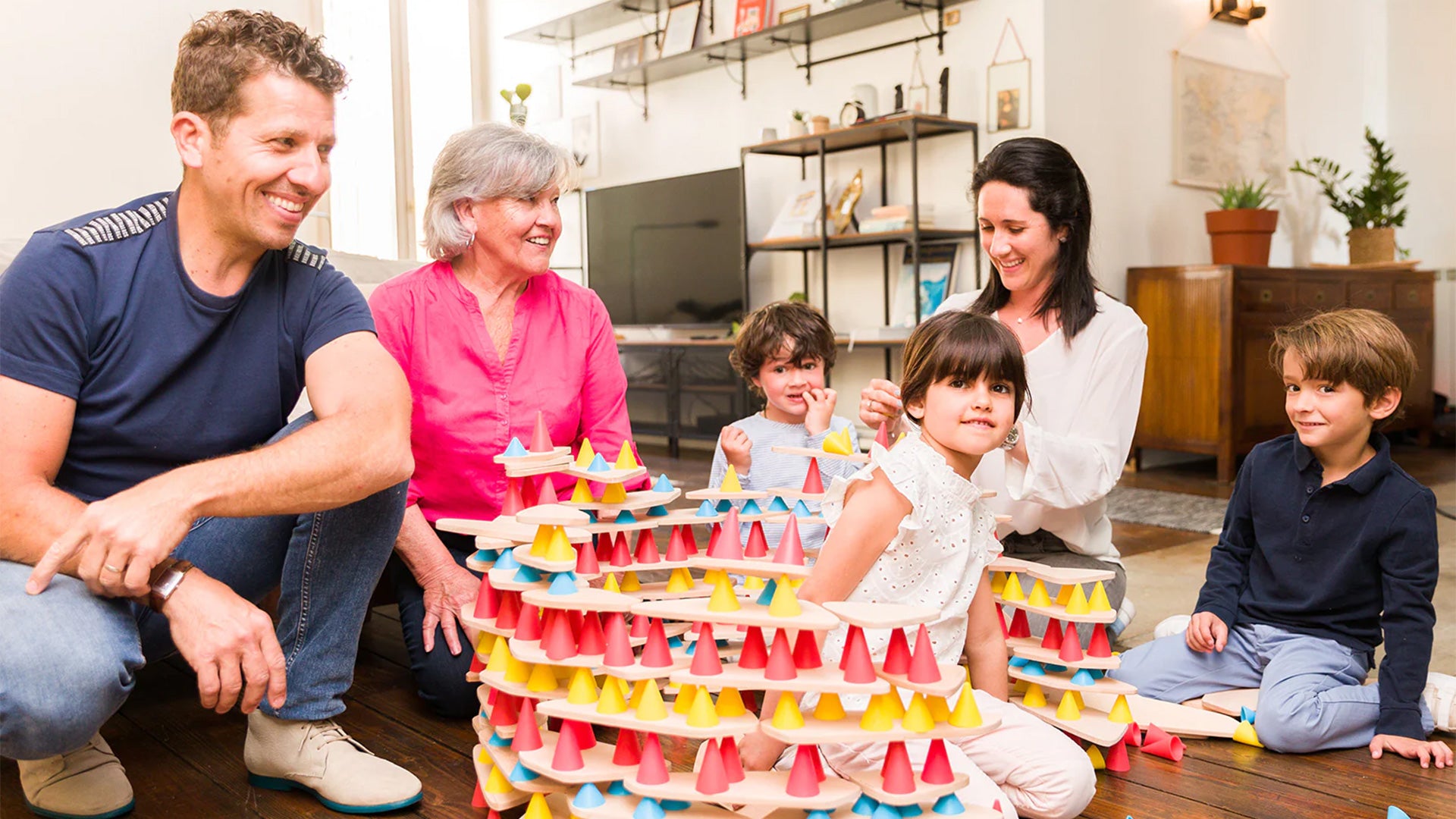 Alone or with others
The real asset of Piks lies in its ability to be used both alone and with others, which makes it an ifun to do with family.
The team can cooperate to find solutions to design problems and help each other improve their communication and problem-solving skills.
Additionally, Piks is ideal for parents who want limit their children's screen time and encouraging creative and educational family leisure activities.
Let customers speak for us
Vous en parlez le mieux !
Which Piks kit to choose?

We recommend Piks Small Kit (24 pieces) in the case of a purchase for one single child 3-4 years old.

If the child is older (from 5 years), or in case they are two players, Picks Medium Kit (44 pieces) will be more suitable because this offer contains more pieces.

From 3 players or for a family, we strongly advise to choose the option Pik's Big Kit (64 pieces) for good times great constructions for all.
Is Piks safe for children?

There quality and the security are also one of our main concerns.

We have taken the appropriate time during our design and development phases to pay attention to all security issues.

And this by choosing the use of non-toxic materials or of untreated solid wood And not spring.

Please note that the Piks collection has passed all tests related to the safety of children's toys (European Directive 2009/48/EC relating to the safety of toys, Standards and regulations EN71 Safety of toys).
Is there an age to play Piks?

Piks is a toy for children from 3 to 103 years old !

Endowed with extreme flexibility, it adapts to all stages of child development.

From 3-4 years old, Piks helps develop their coordination DRIVING, the logic of basic construction and to discover colors and materials.

From 5-8 years old, the toy begins to be a very playful tool: constructions, creativity and characters come together.

For the older ones (8 years and over), Piks becomes a matter of challenges : positioning of the cones, the tallest tower, the inverted tower, battle of Piks, etc ...
What is the best way to clean my Piks?

For the wooden planks, a gentle passage with a slightly damp cloth to clean them is sufficient.

For the silicone cones, a passage in soapy water or in the dishwasher for maintenance more accurate is totally possible.
I am a professional, is Piks right for me?

If you are a professional, we advise you to go to the Piks Education p>
Contactez-nous via le chat pour toute questions complémentaires.
Temps de réponse moyen : moins de 24h